Inside this issue:
* VAAP MEMBERSHIP info
* District News
>>> ARAAP
>>> RAAAP
>>> HRAPA (& article from Tina Guthrie, ADC)
>>> SWVAAP (& article from Jonathan Tate, ADC)
* Message from the VAAP President, Betsy Jenkins
* 2020 VAAP Conference information
ARAAP DISTRICT NEWS
Appalachian Regional Association of Activity Professionals Mini
Conference. Wellness Insights for the Healthcare Professional Sept. 13 – 15, 2019, Breaks Interstate Park 627 Commission Circle Breaks, Va. 24607
For information regarding ARAAP, our quarterly meetings or our mini-conference, please contact: President Leta Cole, ADC Leta.cole@dbhds.viginia.gov Or Treasurer Laurie Hawkins, ADC lhawkins@lee-rehab.com *Mini-Conference is open for anyone who wishes to attend!
Our district organization is dedicated to the educational, professional
and personal well-being of our participants and members

To request more information, or a mini-conference brochure, please contact: lhawkins@lee-rehab.com
Conference spots are filled first come, first serve. There is limited space available.
NEWS FROM RAAAP DISTRICT
Richmond Area Activity Directors Meeting Wednesday, September 18th 8:00AM – 9:00AM this meeting will be held at Spring Arbor of Richmond, 9991 Ridgefield Parkway, Henrico, VA 23233 By Lisa Mullen, ADC (804) 754-8700 RSVP now at: rdad@hhhunt.com. PLEASE bring your Newsletter and Calendar to share. Bring performer and volunteer contacts you'd like to share. The Virginia Association of Activity Professionals (VAAP) has asked us to reinstate RAAAP (Richmond Area Association of Activity Professionals). Let's talk about this! Learn more about VAAP at: vaaponline.org.
Enjoy the rest of your summer and GOOD LUCK celebrating National Assisted Living Week! Please share this invitation with all the Activity Professionals you know! We look forward to seeing each other again!
NEWS FROM HRAPA DISTRICT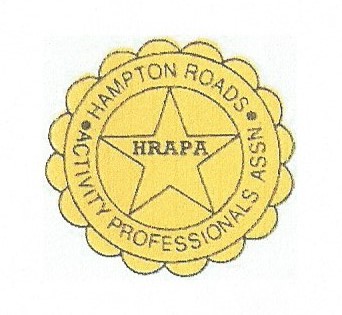 Hampton Roads Activity Professional Association will be meeting on September 19th at Mennowood Retirement Community at 13030 Warwick Blvd, Newport News VA. We will meet at 1pm for lunch 1:30 will have an hour of education followed by a meeting. We will be discussing the upcoming conference in 2020. Please remember that anyone who joins HRAPA before October will go in a free conference for 2020. Also Please join VAAP who sponsors the conference also members receive a discount for the conference. Membership can be paid for at vaaponline.org. if you would like more information about either organization please feel free to contact me at tgu3@cox.net or by phone 757-692-4118. All activity professionals are welcome at HRAPA meeting and look forward to seeing you all. Please RSVP at the above email so we can get an accurate count for the meeting.
Tina Guthrie, ADC
Importance of Networking
When I started out in the field, I knew many of the Activity Professionals in my area. As the years have gone by, I know fewer and have less personal contact with professionals in my area. We have become more dependent on the internet, email, texting, and technology and in turn we have become less personal with each other. I miss the opportunity to find out personally what others are doing, contacts for events, and new ideas for my residents. That is why it is so important to become active in your local and state organizations. We have many new Activity Professionals in the area that would benefit from the experience of others who "have been there" and we would most definitely benefit from a fresh perspective. I remember a time when I had a problem that I just could not find my way around I called a friend in the field who I had developed a relationship with at meetings and she was able to give me a new way to look at the problem and guess what "problem solved" all from personal contacts at a meeting. Please consider joining your state and local organization. If you have any questions or need information please feel free to email me at tgu3@cox.net or call me at 757-692-4118 I will be happy to assist in any way I can.
Tina Guthrie, ADC
HRAPA President/VAAP Vice President
A Message from the VAAP President
Your VAAP Board has been working very hard to revitalize your association to better meet your needs as Activity Professionals. We met in July to take a hard look at our finances and to formulate a budget for the coming year. We also took a look at our by-laws and discussed some things that need to be updated and we discussed plans for the 2020 conference to be held in Newport News, VA
Admittedly our membership has been down, our conference attendance has been down and with and almost nonexistent website, we were not communicating effectively with our members. Your board has taken steps to correct these problems and turn our organization around by contracting a General Manager. Cindy Bradshaw has agreed to be our General Manager. She has jumped right in and begun tackling some of our biggest problems. Membership and Website are her biggest focus areas. She has worked with our web designer to completely overhaul our website, and more importantly she is constantly keeping it updated. She has begun publishing our newsletter again. It is filled with information to keep our members aware of what VAAP is doing. There are also tips to help you in your job and educational articles you may find useful. Information about our annual conference is also posted on the website as well as contact information about all of the districts. Cindy has also spent a lot of time combing through our old membership lists and cleaning them up. She is trying to get a comprehensive list of email addresses for our members and correct non repetitive addresses for our mass mailing list. VAAP Secretary, Natalie Kravitz also set up a group Facebook page for us. She continually shares articles about older folks living well and about the long-term care industry. Please "like" us and join the group.
Please look through the website and visit it each month to read the newsletter and latest updates. Check the tab with information about the 2020 conference in Newport News. We have some big plans in the works. We need to have a good attendance this year so that we can continue to provide these professional high-quality conferences for our members. SWVAAP is already beginning to look at hotels and discuss themes for the 2021 conference to be held in the Roanoke area.
The VAAP is your professional organization. We want to provide the type of quality programming; information and education that will help you excel in your profession. Please pass along any suggestion you may have.
Betsy Jenkins, ADC / President of VAAP
SWVAAP District News
SWVAAP meets the 3rd Friday of January, April, July and October. Meetings start at 9:00 am and are held at different facilities within the area. For more information contact:
Brenda Walker, ADC, AP-BC
SWVAAP President
Phone 434-836-9510 x133
Cell 434-334-4254
email: bwalker-romaneagle.org
HEATWAVES AND RESPIRATORY ILLNESS
This summer, the Virginia Department of Health (VDH) has received increased reports of respiratory illness across the Commonwealth. Recent illnesses have mainly affected adults aged 65 years or older, persons with chronic medical conditions, (e.g., asthma, chronic obstructive pulmonary disease), and those with weakened immune systems. With high temperatures in the forecast, VDH is also concerned about the exacerbation of lung or heart disease and other heat-related illnesses. Early diagnosis and treatment are critical to minimize disease severity and further transmission.
Jonathan Tate, ADC
2020 VAAP Conference
The 2020 VAAP conference hosted by the Hampton Roads District will be held at the Marriott in Newport News City Center, March 24-27, 2020. The Marriott is located right in the middle of Newport News Town Center at 740 Town Center Drive, Newport News, VA 23606 Hotel: 757-873-9299, and has many restaurants within walking distance, and attractions just a few miles away such as Busch Gardens theme park, Historic Williamsburg / Jamestown and outlet stores. (Room rates will be $124. +tax per night).
Registration rates: VAAP Member/$300, NON-VAAP Member $400. The 3 day conference includes continuing education hours, networking opportunities, breakfast, lunch and much more. While you do NOT have to be a member to attend, joining VAAP would offer a substantial discount.
There will also be a PRE conference held on Tuesday, March 24, 2020. This plans to be 6 different themed areas of programming to include: creative, intellectual, physical, social, spiritual and community integration. Each participant will have the ability to share their ideas as well as will interact with others to form a vast resource manel/tool to take back to their facility and be able to implement into their program. We encourage Directors to send your Activity Assistants to the TUESDAY program, as they are often holding down the fort while the directors attend the three-day (Wed – Friday) event.
***specific times, session subjects and prices for each will be posted in upcoming communications. Plan now to attend!!!
Has your contact information changed??? Be sure to email us and let us know.
MEMBERSHIP News
The VAAP Board approved the proposed By-Law Changes, which the membership in turn approved, which included changing the VAAP membership year back to a calendar year (Jan – Dec). This means anyone joining the VAAP starting NOW, will also get the 2020 year included, IF paid by January 1, 2020.
Like us on Facebook
See ALL District News, Upcoming Events, Blogs, Announcements and 2020 Conference information on the www.VAAPOnline.org site